A Baby Changes Everything, part II—Like Little Lambs.
My dear former student's two-year-old baby boy has been in the hospital for twenty-four days. The little guy can't hold down food, and the doctors can't pinpoint his problem. His suffering breaks the hearts of all of us who love his family.
His mom keeps us updated on Facebook, and I keep going back to one picture that speaks as profoundly as any sermon.
The image shows her tiny son—with his hospital gown and feeding tube and teddy bear—bowing his head over his chubby hands to say good-night prayers with grampy. What a champ!
Several years ago, a sweet girl in my Christian school's fourth grade class was struck by cancer. We asked God why and pleaded with Him to heal her and cried after every bad report.
When it became clear she would not be healed on earth, her grieving parents tried to prepare her. To explain death, they used a metaphor of walking through a door to another room, where they wouldn't be able to be with her for a while.
She shrugged and said, "I know. But Jesus is on the other side of the door. Why would I be afraid of that?" Then she went back to her coloring book.

That Christian warrior in her fragile little girl's body was more ready to face eternity than any of us could've possibly imagined.
These families' testimonies remind me of a great story from Bible teacher J. Vernon Magee.
"There is a story of sweetness and beauty . . . It concerns a custom among the shepherd folk of the Alps. In the summertime when the grass in the lower valleys withers and dries up, the shepherds seek to lead their sheep up a winding, thorny, and stony pathway to the high grazing lands.

The sheep, reluctant to take the difficult pathway infested with dangers and hardships, turn back and will not follow. The shepherds make repeated attempts.

But the timid sheep will not follow.

Finally a shepherd reaches into the flock and takes a lamb and places it under his arm, then reaches again and takes another lamb, placing it under the other arm.

Then he starts up the precipitous pathway.

Soon the mother sheep start to follow . . .

And afterward the entire flock.

At last they ascend the torturous trail to green pastures."
Magee used his story to explain the death of innocents. But I see it as a great illustration of how God uses children in His kingdom.
Their beautiful, childlike faith calls out to our stubborn, world-weary hearts.

And before we know it, we've followed those sweet little lambs right into the arms of the Savior—where we should've been headed all along.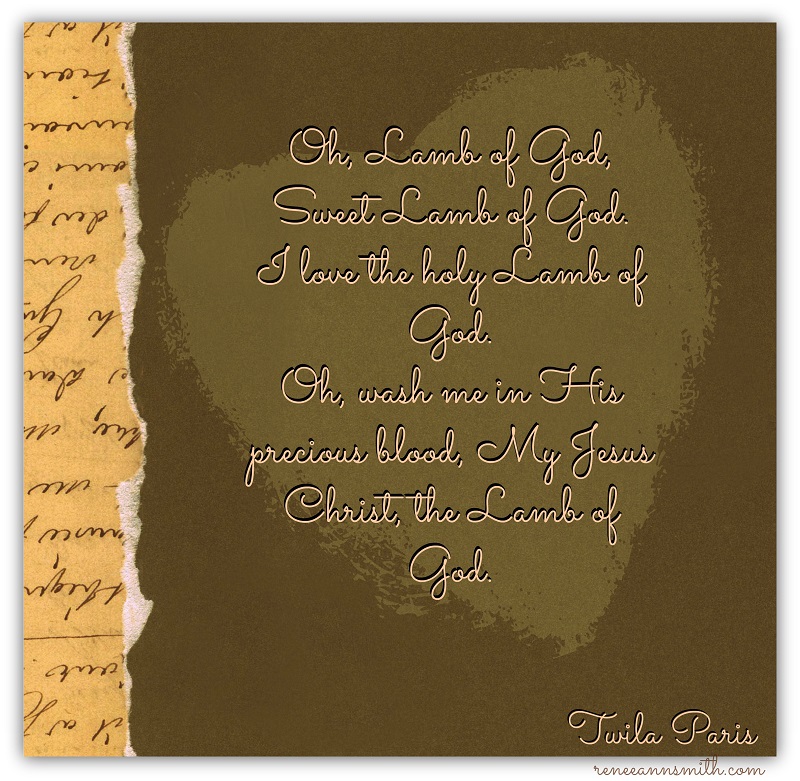 "I was so lost I should have died,
But You have brought me to Your side
To be led by Your staff and rod
And to be call a lamb of God.
Oh Lamb of God, Sweet lamb of God.
I love the Holy Lamb of God.
Oh wash me in His precious Blood,
My Jesus Christ, the Lamb of God."
***Lamb of God by Twila Paris
Here's a link to the recording of Twila Paris singing this beautiful song.