Follow the clues for a chance to win:
Grand Prize: Kindle Fire HDX & $100 Gift Cert
~OR~
Two Second Prize Winners Get: All 32 novels!
Welcome to the Spring Scavenger Hunt! You've arrived at the 3rd stop! The hunt begins at noon (Mountain time) on April 4, 2014. You may have arrived here before the official start, which means all the sites aren't quite ready yet. Once the official start has begun, work your way through the sites, gathering clues, entering bonus giveaways, until you arrive at the final stop–which will be at the same website you began.
The hunt ends on Sunday, April 6, 2014, at midnight (Mountain time). That means you'll have all weekend to complete the hunt, so relax. Take time to enjoy each stop and read the exclusive content each author has prepared just for you!
You'll collect a clue in RED at each stop. writing them down as you go. At the end of the hunt, you'll enter the clues into a Raflecopter form. (The answer will make sense, even if you aren't familiar with it.)
The Hunt is open to international entries. The grand prize is a Kindle Fire HDX + $100 gift certificate. Two runners-up will receive a prize package of all 32 of our latest releases.
If you find a broken link…
We have prepared a page with direct links to each author's post in case a site goes down or a link gets broken. We'll be working on getting all of the links prior to the start of the hunt, but sometimes there are still issues even after the hunt starts, so make a note of the URL for the Participating Authors & Stops page so you can check back and be able to complete the hunt.

My Guest for this Stop: Tracy Higley!
It's my pleasure to introduce Tracy Higley, author of The Queen's Handmaid. I've read this fabulous book and can't wait for you to hear what Tracy has to say about her March 18th release:
The search for identity often leads us astray…

Sometimes the loudest voices in our lives are the ones we need to silence the most. In The Queen's Handmaid, Lydia discovers the importance of finding our identity in God and not in the opinions of others — no matter how large a presence those people are.
We are all trying to gain the love and admiration of others in our lives, to feel good about ourselves. The only way we can escape this self-oriented life and really live our calling is finding acceptance and love in the God who will never fail us.
This search for true identity is the foundation for The Queen's Handmaid, a story that takes readers on an adventure through an ancient world and gives a unique understanding of the culture and setting into which Jesus was born.
Lydia, a servant in Cleopatra's palace, works hard to please but keeps everyone at a safe distance. Though she's young, rejection has left her brokenhearted too many times. When her dying mentor entrusts her with secret writings of the prophet Daniel and charges her to deliver this vital information to those watching for the promised King of Israel, Lydia must leave the nearest thing she's had to family and flee to Jerusalem. Once in the Holy City, she attaches herself to the newly appointed king, Herod the Great, as handmaid to Queen Mariamme.
Trapped among the scheming women of Herod's political family — his sister, his wife and their mothers — and forced to serve in the palace to protect her treasure, Lydia must deliver the scrolls before dark forces warring against the truth destroy all hope of the coming Messiah.
Enjoy this whirlwind trip through Egypt, Rome and Judea—experiencing a taste of my travels to each location in researching my books. From the Harbor of Alexandria, to the house of Caesar Augustus in Rome, to the rocky cliffs of Masada and the Temple Mount in Jerusalem, I followed in the footsteps of Lydia's adventures, and invite you to do the same, in the pages of The Queen's Handmaid! 

You can purchase The Queen's Handmaid at:
Or at your local bookstore.
The Scavenger Hunt Skinny
Before you move on to Stop #4, Tracy Higley's website, to pick up your next clue, be sure to write down this Stop #3 clue: "a man of rare"
That's it! You've done it!
Before You Go…
As a bonus here on my site, participants can earn a chance to win either an intricately designed Jerusalem Puzzle (500pc./16″x20″) ~ OR ~ your choice of TWO of my books (with a downloadable frame-quality print). Contest open to international participants (Puzzle prize available only to US participants).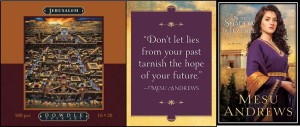 a Rafflecopter giveaway

Thanks for visiting! If you're new to my website, I hope you'll take a few minutes to click through a few tabs and get acquainted. Or bookmark me, and come back later!