I LOVE seeing a new cover for the first time! How about you? A good cover often conveys the mood of the book before opening that first page.
Cover Celebration Contest
So today's post is a celebration! I wanted to thank the folks at Waterbrook/Multnomah for the FABULOUS cover of The Pharaoh's Daughter!
Thank you! Thank you! Thank you!
Is the woman on my cover how you imagined The Pharaoh's Daughter, or does your mind's eye still see the woman who played Moses' mother in the Cecil B. Demille's version of the Ten Commandments? Or maybe you're more of a Disney's Prince of Egypt fan?
Keep reading to find out how you can enter to win your choice of one of those fun DVDs!
Fact or Fiction
It's hard to let go of the images we've held for years to explore new thoughts, new theories, new possibilities. But it's also rewarding to dig into Egyptology, to discover hypotheses of learned men and women who are trying to understand one of the world's most ancient civilizations.
How can I describe the thrill when Egyptian historians unwittingly affirm the Truth of God's Word? How can I communicate the joy that fills me when I find a research tidbit that connects historical fact to biblical Truth? It's an AH-HAH! moment that's a little bit of heaven on earth.
Who is Pharaoh's Daughter?
We know the biblical story from Exodus 1:1-2:8, don't we? Pharaoh commanded the Hebrew midwives to throw all newborn Hebrew males into the Nile. But a Levite man and woman hid their son for months–until it became clear they can hide him no longer. They set him adrift in a pitch-covered basket, and he was found by Pharaoh's daughter–who named him Moses–and she raised him as her own son.
Egyptian history tells a parallel story of kings and princes, of wars and trade and treaties–and babies thrown into the Nile. Recorded on the walls of Egypt's Karnak Temple is one of those interesting tidbits I mentioned.
A relief show an army commander named Mehy, fighting alongside Pharaoh Sety. Mehy had no recorded genealogy, and Rameses II (Sety's heir) attempted to erase all evidence of Mehy from Egypt. Sounds like a great candidate for our Moses of Scripture, eh?
History also tells us King Tut had a sister named Meryetaten-tasherit, who would have been deemed Pharaoh's Daughter because she (like Tut) was a child of Pharaoh Akhenaten.
In the story (my fictional license), I changed her name from Meryetaten-tasherit to Anippe (you'll have to read to find out why, but aren't you happy I gave her a simpler name?). Anippe wants an heir and finds the Hebrew baby floating in the Nile. Can she raise Mehy to the throne of Egypt, or will someone hear the wet nurse call him Moses and destroy everything Anippe holds dear?
Your Turn!
It's my delight and privilege to research characters' historical backgrounds and then create believable personalities and plot lines. Would you like to try it?
Look closely at the woman on the cover of my book. (You can click on the image to enlarge it.) What can you tell about The Pharaoh's Daughter from her photo?
Is she shy or bold?
Is she strong or weak?
Is she happy or sad?
Is she __________ (you fill in the blank)?
Leave your comment below, describing who YOU THINK Pharaoh's daughter might have been, and you'll be entered into this week's contest!
Enter To Win!
Yep! All you have to do to enter this contest is write a comment below, answering Today's Question!
The Prize is Your Choice!
If you're the winner, I'll contact you through email, and you can choose ONE of the DVDs below as your prize!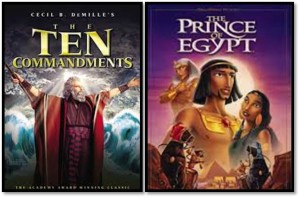 (DVD prizes for US and Canada residents only. International residents may enter but will receive a book of choice–of equal or lesser value–from http://www.bookdepository.com/. Deadline for entries is Thursday, October 2, 2014 at 6am PST. Winner will be notified by email only and given 24 hours to respond.)
Tweet-A-Licious!
Today's Question: