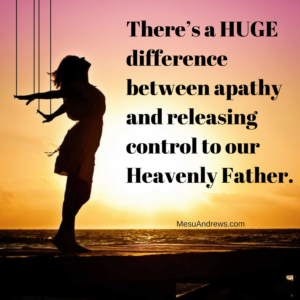 Here's how I realized I had control issues. I began struggling with chronic health issues when our daughters were in junior high. Because of the myriad of unusual and unexplained symptoms, I was sure I had some latent cancer that the docs weren't finding, and I was no doubt dying.
My first thought? I told my husband we needed to begin interviewing for his second-wife. I refused to let just anyone raise my children after I was gone!
Now, that's a control issue. Do you have one too?
A Silly Example
Let's see if a concrete–though silly–example will put our control issues into proper perspective. Say a neighbor's music is playing too loud on a Saturday night, keeping me from getting my beauty rest before I'm supposed to be perky and holy for church the next day.
I ask them nicely to turn it down. They refuse. After repeated attempts, they still won't do as I ask, so I call the police (which would never happen, but stay with me). Let's say the police right them a citation. Police leave. Music begins again. I'm fuming. Whole night of sleep lost.
Lesson learned: Neither the police nor I have control over neighbor's music volume.
Neighbor goes to court to contest citation. Judge finds in favor of neighbor. I appeal. I win. Neighbor appeals. He/She wins. Case goes all the way to Supreme Court. I lose.
Lesson learned: Courts have no control over neighbor's music volume.
In the next Presidential election, I vote for the candidate that will appoint a music-volume conservative to the Supreme Court. My candidate wins. My neighbor again cited for music volume. Again, contests citation. A series of appeals. Goes to Supreme Court. Again—I lose.
Lesson learned: Even a U.S. president has no control over neighbor's music volume.
The ever-shrinking respect for authority means the less control any of us have in this world. So let's bring it into a not-so-silly example. What about that promotion you should have gotten? You have no control. Or the insurance policy that should have paid more on your health expenses? Nope. No control. Or the scholarship your child should have been awarded? Again, no control.
So Do We Just Give Up?
I'm not proposing we become apathetic bystanders without opinions or passion. Instead, Jeremiah 27-29 challenged me to redirect my energy to seek God's control in a situation. As I read those three chapters in a single sitting last week, they told the story of Jerusalem's last days under the monarchy.
The city had already undergone two attacks by Babylon's King Nebuchadnezzar and now false prophets were stirring up those left in the city to fight against Babylon, assuring the people that Yahweh would save them and return the Jewish captives. Jeremiah, on the other hand, received and delivered a different word from the Lord:
"'Now I will give [every country] into the hands of my servant Nebuchadnezzar king of Babylon; I will make even the wild animals subject to him. All nations will serve him and his son and his grandson until the time for his land comes; then many nations and great kings will subjugate him. If, however, any nation or kingdom will not serve Nebuchadnezzar king of Babylon or bow its neck under his yoke, I will punish that nation with the sword, famine and plague,' declares the Lord, 'until I destroy it by his hand.'" Jeremiah 27:6–8
Why would Yahweh force His chosen people to serve a foreign king? Worse yet, why would He make them suffer "sword, famine, and plague" if they didn't submit to King Nebuchadnezzar?
Well, if you've read the Book of Daniel, you know that King Neb had a pride issue—likely caused by conquering all the nations of the known world—and God used his pride to draw the king to Himself.
Would God go to all that trouble to reach one lost Babylonian king?
Couldn't Yahweh have found a different way to draw King Neb's heart to Himself?
Maybe, but you and I aren't in control of that decision, are we? Perhaps we should leave those decisions to the One who is all-knowing (omniscient), all-powerful (omnipotent), and ever-present (omni-present).
The bottom line is…
Do you believe the Creator of the universe has a plan that includes you and me?
Giving Up
Or

Releasing Control

There's a HUGE difference between apathy and releasing control to a loving Heavenly Father. Later, in those same chapters of Jeremiah, I found some of my favorite verses. Their context makes the meaning even more powerful.
"This is what the Lord Almighty, the God of Israel, says to all those I carried into exile from Jerusalem to Babylon: 'Build houses and settle down; plant gardens and eat what they produce. Marry and have sons and daughters…Increase in number there; do not decrease. Also, seek the peace and prosperity of the city to which I have carried you into exile…because if it prospers, you too will prosper…When seventy years are completed for Babylon, I will come to you and fulfill my good promise to bring you back to this place. For I know the plans I have for you,' declares the Lord, 'plans to prosper you and not to harm you, plans to give you hope and a future." Jeremiah 29:4–7, 10-11 (emphasis added)
When the exiles settle into God's plan—and stop fighting for their own control—He can finally bless them and move them forward in His plan for their good future.
Is your world spinning out of control? Relinquish control to the One who keeps the whole world spinning.
Tweet-A-Licious!
Today's Question:
In what area of your life do you find it most difficult to release control? Relationships? Career? Children? Weight? Finances? Something else?