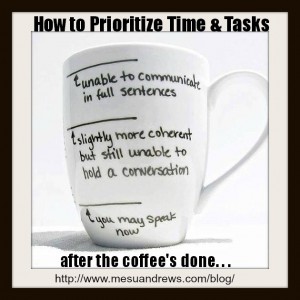 Prepare yourself. I'm gonna get real with you–I mean, REALLY real… 
After fifteen years of fibromyalgia, eight years of almost daily migraines…I should be more comfortable with admitting I need help. But…aagghh! I still hate it!
I should be able to cook supper every night.
I should be able to get groceries, run errands, and do the laundry–in a single day.
I should be able to clean my own house!
(My friend, Meg, tells me NOT to should on myself–good advice for us all.)
The truth is…I simply can't do all those things with my physical limitations. So, what do I do? I ask for help. But help with which? And help from whom?
More Questions!
The Lord, in His great mercy, has given me other (more sedentary) activities that I CAN accomplish:
Research
Writing biblical novels
Blog posts
Ministry through private emails and messages
These are tasks I CAN do and LOVE to do! I would rather read, research, and write than eat or sleep. Alas, eating and sleeping is an essential part of taking care of God's Temple, so how do I prioritize these glorious tasks with the not-so-glamorous daily chores of feeding the dog, cleaning the kitchen, etc., etc., etc.
My Dilemma is Your Dilemma
You may or may not struggle with physical limitations, but I'm guessing we all strive to arrange our lives in an order that is pleasing to our Creator and eternal Judge. Even those in 1st-century Palestine were eager to hear Jesus teaching on this:
"'What must we do to do the works God reguires?' Jesus answered, 'The work of God is this: to believe in the one He has sent.'"      John 6:28-29
Well, thanks, Lord! That's about as vague as green grass or a yellow sun. "Yes, and…?" I would have shouted at the back of the crowd. And, indeed, someone as dense as me did ask Him to show them a miraculous sign. Blah, blah, blah. So, we'd better go back and look at Jesus's words again… "believe in the one He has sent."

Jesus, the Great Synthesizer
When someone asked, "What MUST we do?" the guy really meant, "How much of Moses' Law do we REALLY have to obey?"
Thankfully, we don't have to follow all the Old Testament laws–no sheep's blood or grain offerings at your church altar, right? (If there is–run!)  But when I pray, "Lord, show me Your will for my day. How should I order my time?"–perhaps He gives me the same answer:
Believe in the One He has sent.
Jesus took massive amounts of the Scriptures (what we call the Old Testament) and boiled it down to that single concept. But what did He mean by "believe?" The Apostle James tells us that true believing isn't just an intellectual pursuit or an emotional response.
"…faith without deeds is dead."     James 2:26
So, how do I actively believe my time and tasks into the proper priorities? Let's put it this way: If there had been automobiles during Bible times, James would have said, "It's much easier to turn a MOVING vehicle. You can't steer a PARKED car."
To prioritize by believing, we must be rolling with the Spirit's nudging while asking the Lord to order our time! My guess is–those folks in Jesus's day already had an inkling what was required to please God. JUST AS we already know the direction our priorities should take. Am I right?
Here's a little "rolling faith" the Lord has used in my own struggle…
Get Rolling and Keep Listening!
Listen To Your Body–my body tells me to be more intentional about exercise, healthy diet, and limiting stress. I MUST be a better listener to my body!
Listen To Your spirit (and THE Spirit)–my spirit tells me when my day's work has been pleasing to my Father in Heaven. I KNOW when I'm on the right track!
Identify Those Things Only You Can Do & Make Them Your 1st Priority–anyone can vacuum, but only I can write this blog post. My hubby and I can cook supper together, but only I can research and write my next book.
Watch For God's Intervention–I must be alert to the back doors He leaves open for my escape from schedule-bondage! I received a flyer in the mail this week for discounted housecleaning services! My Jesus loves me!  😆
How Does Life Change?
How will life change when we decide to believe Jesus for every breath, every decision and task on our list of to-do's? My day becomes a holy conversation with the One in whom I place my full trust. My life grows in meaning because I have portioned each moment with a care-full decision.
Join me in "…doing what God requires…" Freely. Joy-fully. Faith-fully.
Tweet-A-Licious!
Today's Questions:
What is one thing you do that no one else can? (What should be your top priority for which you trust Jesus to help provide time?)
What is something you're doing now that someone else could do for you (or help you with) that might free you to do top-priority tasks?