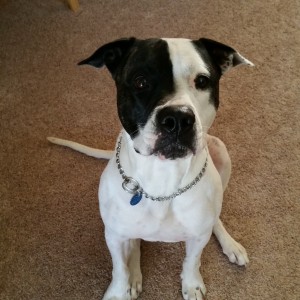 As many of you know, we recently added a four-legged friend to our family. We adopted Theo–a three-year-old American bulldog mix–from our local humane shelter, and he's added a splash of joy to our lives. He's my writing buddy, my foot-warmer, and my inspiration for a special character in the new book I'm plotting.  😀
Beginning Miriam's Story
Though Scripture doesn't tell us if Miriam ever married, I've decided to depict her as an elderly single woman who is utterly fulfilled by the intimacy she enjoys with El Shaddai. Miriam would describe her life this way as the book begins:
No relationship imprisons me. No task consumes me. No despair conquers me. For eighty-five years, I've been Shaddai's alone, loving others with the overflow of His love for me.
Of course, there wouldn't be a book if Miriam didn't endure some sort of hardship and transformation. During that transformation, she's going to need a friend…
Not Your Typical Romance
This book won't be your typical boy-meets-girl romance–mainly because our heroine is eighty-five years old! ha! But it's more than that. I know many single women–either single by choice or by unforeseen circumstance–who struggle to find a spiritually challenging novel without the overwhelming message that they must be married to be happy.
Miriam will be single, spicy, and thoroughly content with the God who adores her.
But don't worry, romance lovers–love stories still abound in these pages! However, it will be a different love story than you expect.
Why?
God Is Not Who We Expect
Throughout this book we'll examine our human inability to put God in a box. If we've dared to define Him, He'll find a way to exceed our expectations and break our carefully hewn mold.
There are, of course, certain things we can know about our God. He is infinite, omnipotent, omniscient and many more things beyond the scope of this blog post. And the Bible tells us God never changes:
"In the beginning you laid the foundations of the earth, and the heavens are the work of your hands. They will perish, but you remain; they will all wear out like a garment…But you remain the same, and your years will never end."   Psalm 102:25-27
But remember that word, infinite. No matter how long we follow Him, or study Him, or know Him–we will never stop discovering new things about our infinite God! He will surprise us no matter what we THINK we know of Him.
A Friend For Miriam
So who will stand by Miriam through thick and thin as she discovers these new facets of the God she thought she knew? Since my Theo has been such a blessing to my heart over the past few weeks, it had to be a dog.  😀
And not just any dog. A Canaan Dog–an ancient breed of herding dog that's been employed by the bedouins to shepherd their flocks since 2200 B.C.
Can you tell I love research?
I need your help naming this important character in book #6! Here are your choices (listed with the name's meaning):
JABBAR – Compeller

MALIK – Master (King)

SATTAR – Protector
How To Vote…
Please only choose one name, and write it in the comments below. Feel free to tell me why you chose it. I'd love to hear your opinions! I'll count votes until midnight (EST) on Wednesday, October 15th and then announce the winning doggie name on Friday, October 17th!
On your mark…Get set…Vote!
Tweet-A-Licious!
Today's Question:
What was your favorite pet's name (as an adult or a kid)? Why was he/she so special?