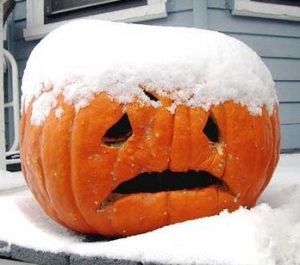 Today is Halloween, but I'm not going to celebrate it or curse it. Most Christians have an opinion on this controversial subject, and I've lived on both sides.
When I was in second grade, my family made the decision not to celebrate Halloween. Now, this was back in the days before "harvest parties" were PC.
Only me and one other kid were to be left our of the second grade festivities…and I wasn't about to let that happen. My solution was to sneak Halloween costume to school that my mom would never suspect. I grabbed her red lipstick, my patent-leather high-heeled boots (even a 2nd grader had patent-leather high-heeled boots in 1972), and I rolled up my mini-skirt. When the teacher asked what my costume was, I said, "I'm a hooker."
Yep, second grade. I don't think I even knew what that was! I just liked the lipstick and high heels. Oy-vay!
So when my daughters buy my grandchildren adorable little costumes for Halloween, I don't complain!
Holiday Season in the U.S.
October begins holiday season in America. Halloween in October, Thanksgiving in November, and Christmas in December. Retailers are thrilled. As soon as July 4th passes, we begin seeing scarecrows and fake autumn leaves in store windows.
But what does it mean, these holidays we celebrate? Even the word escapes us, doesn't it…
Holi-day –> Holy-day
Yep, believe it or not, the concept of a "holiday" began as a day set aside for worship. Halloween, as some may know, has its roots in pagan worship, but the day after (Nov. 1st) was deemed All Saint's Day as an alternative Christian holiday.
The original Thanksgiving holiday is steeped in worship. The Pilgrims came to this country to worship their God freely. At Thanksgiving, we celebrate the bounty of harvest—yes. But we celebrate the Pilgrim's God, who offered His only Son to be a one-time sacrifice for all who believe.
And at Christmas, we celebrate the birth of God's Son. Again, there have been pagan practices that crept in through the years, but why let those hinder our true worship of the One and Only Savior of the world?
Holidays Are God's Idea
Scour God's Word, and you'll find lots of great ideas. Human beings tend to mess them up, but from God's design…they were great ideas.
Marriage
Children
Rest
Clean eating
Kindness
And…holidays!
I believe Passover is the first record of a God-inspired holiday. Granted, it's not a clap-your-hands-and-shout-for-joy sort of celebration, but it was an important event that God wanted the Children of Israel to remember FOREVER…
"It is the Lord's Passover. On that same night I will pass through Egypt and strike down every firstborn of both people and animals…This is a day you are to commemorate; for the generations to come you shall celebrate it as a festival to the Lord—a lasting ordinance.'"  Exodus 12:11-14
Fall Feasts of Israel
Holidays are all about remembering. God knows we have a short attention span and an even shorter memory.
Instead of using flashcards or boring repetition, God told His people to celebrate regularly to cement important events in our memories. How cool is that?
Some dear friends gave me a book several years ago titled, The Fall Feasts of Israel. What an awesome gift! It tells that Lev. 23 describes eight "appointed times"—what I would call God-ordained holidays. They are divided into two groups, the first related to Passover and the second falling in the seventh (and most sacred) month—defined as the fall feasts:
"The fall feasts are unique among the appointed times of the Lord. The lessons they teach form a natural progression of thought: the feast of Trumpets teaches repentance; the Day of Atonement, redemption; and the feast of Tabernacles, rejoicing. On the Feast of Trumpets, the sound of the ram's horn calls upon each Jew to repent and confess his sins before his Maker. The Day of Atonement is that ominous day when peace is made with God. On the feast of Tabernacles, Israel obeys God's command to rejoice over the harvest and the goodness of God. It is necessary to pass through repentance and redemption in order to experience His joy."  (Fall Feasts, p. 16)
My Point?
Don't worry. I'm not lobbying for America to adopt the fall feasts of Israel. (Though I think it would be fun to experience them in Israel at least once before I die!) What I'm asking is this:
Let's celebrate our holy-days with purpose.
Whether you, your friends, children, or grandchildren dress up for Halloween or not—let's remember the darkness of sin. Come face to face with God's absolute hatred of it, His loathing of pain and death. Only when we realize the absolute horror of evil can we realize our need for salvation.
When Thanksgiving comes 'round, please turn off the parades and football games just for a moment. Sit around a table (without your cell phone) and thank Jesus for your blessings. Thank Him for the farmers in this country, for the food on your table, and for the bountiful blessings we so often take for granted.
Christmas is my husband's favorite time of year. He starts counting down the days 'til next Christmas on December 26th. But it can be an incredibly lonely time for those who have no family around them and an incredibly hard time for those who can't feed their families. If you'd like to make your Christmas more meaningful, I encourage you to check out the Advent Conspiracy. Roy and I have never taken part in it, but it looks intriguing. If you've done it, please share your experience in the comments below!
I leave you with this verse, hoping my words have lifted your eyes to the One who gives us ample reasons—and COMMANDS—to celebrate!
"And whatever you do, whether in word or deed, do it all in the name of the Lord Jesus, giving thanks to God the Father through him."   Colossians 3:17
Tweet-A-Licious!
Today's Question:
What is your favorite holiday and why?