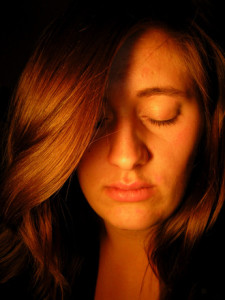 As we look at clues from Scripture to determine the personality and temperament of Moses's elder sister, Miriam, let me share a quick overview of my Introvert vs. Extrovert story.
I used to be an off-the-charts extrovert. When our girls were little, I needed to get out of the house for adult interaction every day or…well, let's just say…it wasn't pretty. Friends were vital—lots of friends. Play dates and prayer groups. Ballgames and Bible studies. Even a senseless trip to Wal-Mart would suffice for social interaction.
I. Needed. People.
Then my health took a dive. There was no Facebook, Twitter, or Instagram to keep me connected to friends or family in those days. I spent six months in bed with no cell phone to text folks a happy "hello" during those endless hours alone.
There was only God, and—after several spiritual tantrums—I found Him to be enough. Then I found Him to be my desire.
"I belong to my beloved, and his desire is for me."

Song of Songs 7:10
Somehow in that transformation, the extrovert in me died; an introvert was born; and people became a distraction. I gained strength from time alone with Jesus, and time spent with people—though mostly pleasant—drained me emotionally and physically.
Miriam's Role in Scripture
When I write a story about people in Scripture, it's important to remember that these characters were REAL PEOPLE! They, too, were extroverts and introverts. They had good habits, bad habits, warts, crooked teeth, curly/straight hair, and all sorts of unique characteristics that only God knows for sure. There are, however, a few hints we can pick up from Scripture about Bible characters' personalities and temperaments.
Miriam's name is mentioned six times in Scripture:
Exodus 15 – Miriam is deemed a prophetess and leads the Israelite women in song and dance after crossing the Sea of Reeds.
Numbers 12 – Miriam criticized Moses and was punished with leprosy from the LORD.
Numbers 20 – Miriam died in the wilderness after forty years of wandering.
Deuteronomy 24 – Miriam's punishment is alluded to as ample reason to obey the LORD.
1 Chronicles 6 – Miriam is confirmed as daughter of Amram, sister of Aaron and Moses.
Micah 6 – Miriam's leadership over Israel is affirmed as God-given.
Miriam is mentioned in Exodus 2 only as "his sister" when she followed Moses's basket among the bulrushes until it was found by pharaoh's daughter.
Whether striking up a conversation with a princess or leading a nation of women in a dance, we see that the Miriam of Scripture is resourceful, fearless, and a woman who isn't shy about expressing her opinions.
Miriam—Keirsey's Guardian
When writing a novel, I try to assign each major character a personality type using the information provided by the Keirsey Temperament Sorter. For Miriam: A Treasures of the Nile Novel, I used clues from the Scriptures above and gave our eighty-six year-old main character a Guardian personality type. As you can see by the descriptions on Keirsey's website, a Guardian is a cornerstone of the community, an extrovert who uses his/her skills to keep their families and communities running smoothly. They value stability and tradition, and they're dependable and trustworthy.
Sounds like the Miriam you know from Scripture, doesn't it?
You probably know a few "Guardians" in your family or community. They comprise about 40-45 percent of the population.[1] These are the folks that end up doing the thankless jobs that the rest of us take for granted. Perhaps you're one of these Guardians.
Community Commanded
For an extrovert like Miriam, living in the small slave community of Goshen would have come naturally. She'd lived there all her life, and it was a cultural norm in the ancient Middle East. She would have had no difficulty obeying the New Testament command:
"And let us consider how we may spur one another on toward love and good deeds, not giving up meeting together, as some are in the habit of doing, but encouraging one another—and all the more as you see the Day approaching."            Hebrews 11:24-25
But what about us introverts in modern-day Western culture? I never understood the guilt associated with being an introvert until I was one! Every Scripture or sermon that challenges me to get more "involved" with people feels like condemnation.
How can an introvert regularly and faithfully "meet with and encourage others" in a healthy, God-honoring way?
The Mystery of Together Alone
In the devotional, Jesus Calling (December 30th), Sarah Young describes a person's spiritual growth process like this:
"The closer to [Jesus] you grow, the more fully you become your true self—the one [He] designed you to be. Because you are one of a kind, the path you are traveling with [Him] diverges increasingly from that of other people."
These words confirmed what I'd experienced as illness and age changed me from extrovert to introvert, but it was the second part of her explanation that gave me hope for community…
"However, in [His] mysterious wisdom and ways, [He] enables you to follow this solitary path while staying in close contact with others. In fact, the more completely you devote yourself to [Him], the more freely you can love people."
In these few words, she summed up the key to an introvert's social dilemma. We are free to love people.
That's it. That's all.
Freedom for All
We need not seek others' love or approval. We are simply asked to love them. If I leave my house with the single task of loving for Jesus' sake, I can walk into a crowded room with incredible freedom.
When I think of Miriam–though she was an extrovert in my book–she was quite good at simply loving people without regard for their response.
When I think of Jesus' love—the love that delivered Him in a manger, made Him an obedient carpenter's Son, enabled Him to lead a band of unruly disciples, and forced Him to climb up on a cross—I can certainly leave my comfortable four walls to share His love with others.
The goal of loving others simplifies living in community for extroverts and introverts. Loving others regardless of their response frees us to be ourselves in a crowd. So…introverts…emerge from your closets to share a little love! And…extroverts…share the love, but give those introverts a little grace.
Tweet-A-Licious!
Today's Questions:
Are you an introvert or extrovert? Do you think it makes it harder or easier for you to share God's love with others?
[1] http://www.keirsey.com/4temps/guardian_overview.asp