Has your heart ever felt so warm and full, you thought it might burst? That's how I feel when our new dog snuggles up close for some love. If you're not a pet person, you may not understand this feeling, but I happen to believe the Lord gave us furry, feathered, and four-legged friends to make our earthly journey more fun and fulfilling.
Start At the Beginning
We know God created the heavens and the earth, land and sea, sun, moon, and stars on the first four days. Water creatures and birds on day five, and land creatures, livestock, and wild beasts on day six–before He created man in His image (Gen. 1).
It seems as soon as Adam took a breath, God gave him a job: naming all the animals/creatures.
"The Lord God said, 'It is not good for the man to be alone. I will make a helper suitable for him.' Now the Lord God had formed out of the ground all the wild animals and all the birds in the sky. He brought them to the man to see what he would name them; and whatever the man called each living creature, that was its name. So the man gave names to all the livestock, the birds in the sky and all the wild animals.But for Adam no suitable helper was found."                      Genesis 2:18-20
Notice that God paraded the animals in front of Adam before God created Eve. Why? Maybe to show Adam that he needed human companionship. Animals can't take the place of human relationships, but they were God's first priority for Adam's attention in the Garden. Animals are important to our God.
Do All Dogs Go to Heaven?
We could get into all sorts of theological discussions about whether animals do or don't have souls or spirits, whether there is a pet heaven, and if we'll see our pets in heaven. The answer to all those questions is WAAAAAAYYY above my pay grade.
I remember several years ago, when a 5-year-old girl's daddy died (he was only 34 yrs old), and she had many tough questions about heaven. I found a children's book by Larry Libby called, Someday Heaven, that helped answer my adult questions as much as it helped her child-like faith!
This book discusses the question, Will my pet go to heaven? And I love Libby's response:
"The Bible says that after death, people live forever. But the Bible doesn't say if animals live forever. If they do, God has decided not to tell us. But wouldn't it be a wonderful surprise to get to heaven and find the strangest and cuddliest and friendliest and grandest animals that you have ever seen! Our God loves surprises. And who knows? Maybe He will surprise us with the pets we loved on earth. Our God can do anything."  Larry Libby, Someday Heaven (ZonderKids, 2001)
Biblical Animals
It was Libby's book that stirred my imagination of those heavenly creatures described in Ezekiel and Revelation. If God made the ant-eater and giraffe look so goofy, imagine what some of those heavenly creatures will be like. But remember the beauty and perfection of our forever home, and let any angst over these heavenly animals fall away.
The same God that created the majestic–and intimidating–throne creatures is the same loving Father who protects you beneath the shadow of His wings. Now, let your imagination go wild as you read the descriptions of these creatures in Ezekiel 1 and Revelation 4. The passages are too long for me to quote here, but it's worth your time to turn there…and see these amazing creatures in your mind's eye.
Uh-ma-zing, huh? I get all weepy when I see an elk or deer crossing the road, let alone magnificent creatures around the throne of my Lord!  😉
What's Up With Sacrifices?
So, here's a question… If God loves animals so much, why did He require their death as the sacrifice for human sins? I won't pretend to know God's mind or the reasons for His redemptive plan. What I do know is this…God compares Jesus, His Son, to both a Lion and a Lamb.
[the Apostle John said] "Then one of the elders said to me, 'Do not weep! See, the Lion of the tribe of Judah, the Root of David, has triumphed. He is able to open the scroll and its seven seals.' Then I saw a Lamb, looking as if it had been slain, standing at the center of the throne, encircled by the four living creatures and the elders."    Revelation 5:5-6 (emphasis added)
I believe that every bull, ram, lamb, goat, dove, and pigeon sacrificed on Israel's altar was a memorial to the ultimate sacrifice that would one day be made for us all–making each of those creatures all the more precious to our Heavenly Father.
All God's Creatures
Whether you're a pet lover, or you simply enjoy snapshots of migrating whales or African Safaris, I hope you'll begin to notice the places in God's Word where He shows special deference to His creatures.
And please be patient with me as I brag and babble about my new "baby." I've been writing alone for over eight months now, and I'm thrilled to finally have this lovey guy–Theo–at my side during long hours of research and writing. He's quite a research assistant…as you can see.
Theo's Story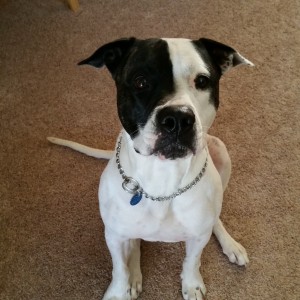 Theo is a 3-yr-old American Bulldog mix that we found at our local humane shelter. He came there as a stray, so we have only the information that the behavioral specialists observed. He's 65-lb. of skin and bones at the moment, but we'll fatten him up with good food, treats, and lots of love.
He came to us with some skin issues and arthritis (or some sort if poorly-healed injury) in his right hind quarters, but runs and plays like a madman! He also loves to snuggle and sit at my feel while I write…balm to my soul.
If dogs go to heaven, Theo's a shoe-in!
Tweet-a-Licious!
Today's Question:
Do you think some of the biblical characters might have owned pets that weren't mentioned in the biblical text? (No right or wrong answer…just an "I wonder" kind of thing.) Which ones might have owned a dog, cat, or other animal, and why do you think so?